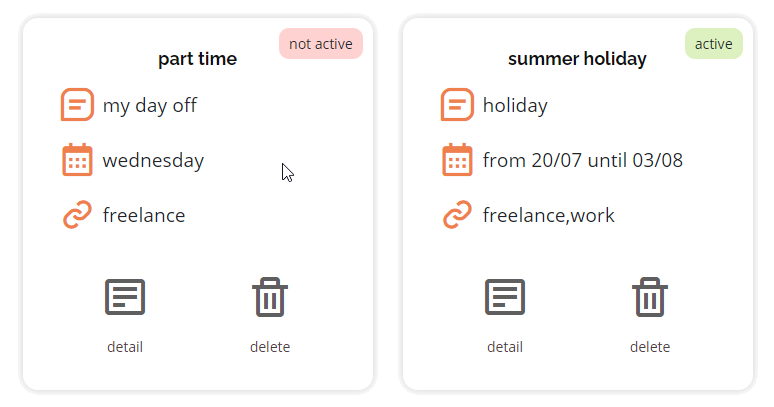 Do you need to configure your out of office on a frequent basis? For example you work part time, has parental leave, the opening hours of your shop or have a less conventional work regime.
Let 'Not In Today' handle this for you. Configure your out of office once with your preferred schedule and 'Not In Today' will take care of that.
Just 4 simple steps:
Create your out of office
Define schedule, eg your weekly day(s) off
Pick one of your messages
Done! 'Not In Today' will set your out of office for you every time...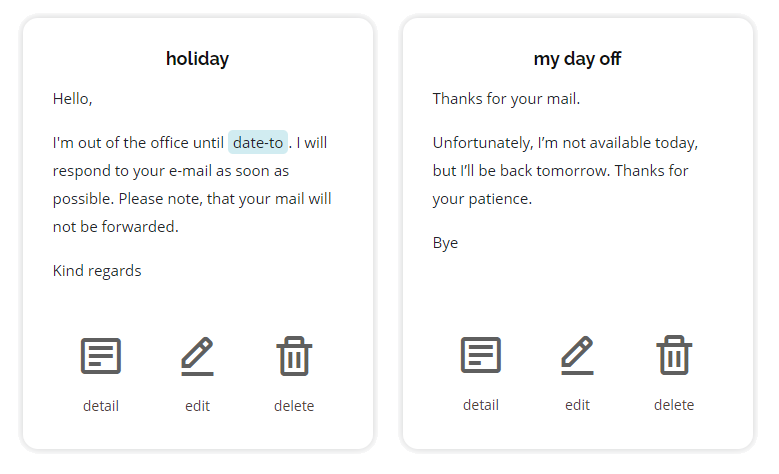 In addition, you can also easily manage multiple out of office messages. Have your messages at hand for your business travel, the holidays, events...
No more rewriting or a copy paste of your out of office message for each different occasion.
Easily manage multiple messages and use them in one or more automatic replies.
Helen Barker
Finance Administrator at New Anglia Growth Hub

I'm so glad I found 'Not In Today'.
I've been trying to find a solution to set up different out of office options and this makes it so easy. I use Microsoft Outlook 2019 at home and 365 in the office and it works great with both.
It is super easy to use and if you do have any questions/problems, they are answered/dealt with really quickly. Great customer service.
If you want to set up a recurring out of office look no further. It's here!
Steve Dubrava
ITSupport / System Administrator at SCM Insurance Services

I have struggled with remembering to turn on my out of office when unavailable, vacation or even at the end of every day.
I was simply amazed to finally see a program that works. I set my weekly schedule and walk away.
It truly was incredible watching my out of office automatically turn on at the end of the day and turn back off in the morning.
The super easy to use, uncomplicated easy flow of the site to set my schedule is AWESOME!
Great job and thank you.
Configure your out of office once and for all
Different Integrations
Manage your out of offices for your favorite e-mail services in one central application. Through a web application that is available everywhere.
Reuse your messages between Office 365 and Gmail or configure one out of office for multiple services.
Supported or on the roadmap
Office 365 (work or school account)
Microsoft (Hotmail, Outlook.com)
Google Apps - roadmap
Gmail - roadmap
F.A.Q
Frequently Asked Questions
Start configuring your out of office
Help a friend!
Do you know someone who would benefit from this tool? Let them now!